From the Los Angeles Times - February 5, 2010:

Jack Hamilton Bailey
May 7, 1923 - January 28, 2010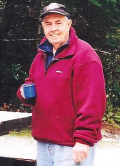 Jack Bailey, 86, died at home in Studio City after a battle with cancer. Happily married for 56 years to his devoted wife, Wanda, he also leaves son, Matt, and daughter, Madeline.

An Oregon native, Jack joined the Navy at 17, and served in WW II aboard the aircraft carrier Lexington, until she was sunk during the Battle of the Coral Sea. He graduated from USC with a BA in English and then spent 16 years in aerospace during which time he wrote two novels loosely based on the industry. Critically praised, they unfortunately cost him his career.

A lifelong car enthusiast, Jack later went into the automotive repair business and continued writing, earning distinctions in the prestigious Chesterfield and Nicholl screenwriting competitions.

Jack was admired for his wit, intellect, talent and kindness. He will be missed.


Photos.



The Number Two Man: A Novel of the Aerospace Business
(D. McKay Co.; 1968; 370 pages; LOC)

"They turned the weapons race into a battle for profits and power."

From Kirkus Reviews: Acid indigestion and amatory athletics in the aircraft-electronics biz, as one man goes through the mangle. Marc Banion, technical representative of Stellar Aircraft, moves to Electronautics, a firm turning out radar systems for the Stellar aircraft F-114, given the nod for delivery to Europe for "European Defense." However, Marc suspects that bugs in the system are being covered up to expedite and clinch the Defense Department O.K., through the ruthless machinations of Pete Maxwell of Stellar and an enterprising General Geiger, who had been culling some green and favors hither and yon. When one pilot barely escapes death, when another pilot and the honest and courageous Bill Cobb, the Test Director, die in defective planes, Marc makes his move, releasing the scandal for publication. Leaving Electronautics, Marc joins a rival firm and calls the turns with his former boss. Meshed among the dealing-wheels are affairs of the heart or rather groin. Marc, with one humble secretary, married Tracy, finds respite from the battles with his "frigid" wife but nobly considers the responsibility to his children. The sex is frequent...

From BookFever: The author's first book, a novel based on the aerospace business of the late 1960's - specifically an F-114 fighter plane - the competition for contracts, fighting over quality control and design specifications, union contracts, and dangerous test missions. While this is called fiction, the author was an executive with North American Rockwell for 15 years at the time he wrote this book, and so it is based on his own personal knowledge of the industry.

[see below]


The Icarus Complex
(Dodd, Mead; 1972; 281 pages; LOC)

"The aerospace industry and the corruption that fuels it--from steno-pool whores to the elegant suites of Washington's power elite!"
"The billion dollar scandal that no one could stop - even at the steps of the Pentagon!"

From Kirkus Reviews: Collusion and anteroom sex lubricate deals in high places as senators, generals, middlemen and even the President set up Pacific-General Aerospace Company for another contract in spite of the tragic failure of spacecraft "Icarus." Integrity surfaces in the persons of Judd Holloway, ill but still head of PGA, who puts down a partner's efforts to play dirty pool; widower Ross Madden, a consultant who sorts through the scandals; and Amanda, longtime PGA employee, believed by Judd's daughter Lisa, who is after Ross, to have been her father's lover. Ross cuts through the interweaving blackmail to tighten the noose and find true love. ...

From Bowling Green: Jack H. Bailey is from Coeur d'Alene, Idaho. He served in the United States Navy for six years. In 1947 he sold a five minute radio script for five dollars. Bailey attended Gonzaga University in Spokane, Washington. In 1950, he moved to Los Angeles, California, to attend a now-defunct writer's school in Hollywood. He enrolled at the University of Southern California, receiving a B.A. degree in English in 1953. Also in 1953, he married Wanda, a fellow student majoring in geology. They have a son and daughter. ...

Also: Website ~ Orchard (new book 7/2016) ~ Facebook ~ Goodreads.


URL:www.9TimeZones.com/bailey.htm
Safe journey, Jack. --Alan